SHADOW IT: THE GROWING RISK IN EDISCOVERY AND INFO GOVERNANCE
September 20, 2022 @ 4:30 pm

-

5:30 pm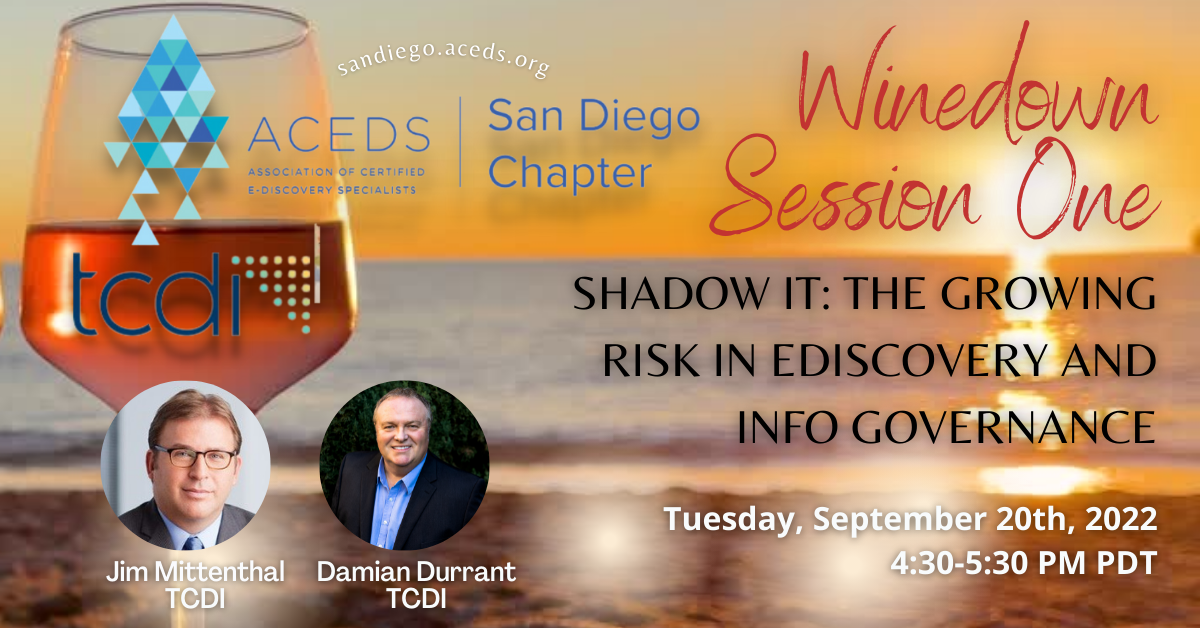 Shadow IT: The Growing Risk in eDiscovery and Information Governance
Join us for Session ONE of Association of Certified E-Discovery Specialists (ACEDS) San Diego Chapter, eDiscovery 2022 Fall WineDown Events.
About this event:
Session One: Shadow IT: The Growing Risk in eDiscovery and Information Governance
Tuesday, September 20th, 2022 | 4:30 PM- 5:30PM PDT
Presented by Damian A. Durrant JD is Senior Director, Legal Services at TCDI. Damian has fifteen years of experience providing legal services and software to corporate and law firm clients; and 7 years spent working in litigation support, e-discovery, and special projects on the law firm side. Particular experience coordinating e-discovery and managed review service for large corporate clients facing complex or high-volume litigation. Damian enjoys employing diverse experience in the legal industry with the versatility to ensure clients success. He brings a diverse substantive background including e-discovery, IP management, legal operations, litigation management, and cybersecurity compliance. Damian was an active member of EDRM helping craft the Information Governance model and has been published on e-discovery. Prior to joining TCDI, Damian worked in the IP field. Based in San Francisco since 2015 he is privileged to have worked with some of the leading companies in Silicon Valley. Damian holds a JD from UC Hastings College of the Law and a PMP certification. Damian hails from the UK and has lived in the United States for thirty-two years.
Jim Mittenthal is Vice President for TCDI. Mr. Mittenthal has assisted national law firms and law departments for more than thirty years on a wide range of technology initiatives and general management issues. His practice specialties include technology planning, selection, and implementation; information life cycle management, data mapping, records policy, and governance; litigation support and electronic discovery, including analytics, enterprise and legacy data review and production; and legal practice and administration topics. Recent engagements include eDiscovery and forensics projects, strategic planning and technology projects for several major law firms, and design of matter management and knowledge management systems for Fortune 100 legal departments. He serves in technology-based cases as a testifying or consulting expert, as a corporate witness in product liability and intellectual property matters, and undertakes technology-based investigations and remediation assignments. In the past he has developed commercial software and custom applications for complex litigation and case management that were used by law firms, major corporations, and government entities. Mr. Mittenthal holds a Juris Doctor from Boston University and a Bachelor of Arts from the University of Michigan Honors Program. He is admitted to the practice of law in the Commonwealth of Massachusetts.
TCDI provides professional services and software that help corporations and law firms solve legal challenges, manage the eDiscovery process, increase efficiencies, and reduce costs. We partner with clients to deliver a strategic, collaborative, people-first experience not found anywhere else. TCDI is an employee-owned company (ESOP), a certified minority-owned business, and a member of the US Department of Defense Military Spouse Employment Partnership. Women hold 60% of our leadership positions. We invite others to learn more about why so many of our clients have chosen to remain a part of our family for decades.
*Attendees are eligible for One Hour of CA MCLE – Courtesy of ACEDS